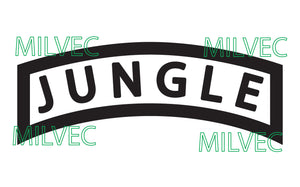 Jungle Tab Vinyl Decal
Soldiers serving in the Pacific area of operations are now authorized to wear the jungle tab upon graduating from the 20-day JOTC, which focuses on small-unit tactics, waterborne operations and survival in the thick, insect-infested jungles of Hawaii.
Jungle tab in white or black cutout vinyl.  I don't have the green yet.
Other colors, including matte white or black, and custom sizes are available upon request.
Have an idea for a decal using this design, send me a custom request.
---
We Also Recommend
---